You can order our books in one of three ways.
1. You can order any of our products direct from Design Mechanism using the 'Store' tool, below. If you are a first-time customer you will be asked to create an account first, and then log-in to shop. Buying any book from us direct also ensures you receive the PDF version free of charge. Once your order is processed you'll be able to download the PDF from us at no cost.
2. You can also order through our partner, Moon Design Publications. Click on their link to be taken to their site. Here you'll be able to order RuneQuest in combination with several of their fine Glorantha products.
3. You can buy PDFs of our products without the print copy from us by choosing the PDF product. Please, don't choose the PDF if you're buying the print copy; you'll just end up with two PDFs and will have spent more than you needed to!
4. You can also buy the PDF through DrivethruRPG. Just click on their link to be taken to Design Mechanism's storefront.
5. We also sell some of our titles as Print on Demand books via Lulu. Check out our Lulu Page for details.
Scroll down for announcements of new products!
Design Mechanism Store
Please note the we have limited copies of RuneQuest 6th Edition remaining, and when sold, it will be out of print. It will be replaced by Mythras in due course.
Shores of Korantia
TDM300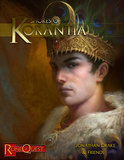 Mythras Supplements
Explore a Whole New World of Intrigue and Adventure in Shores Of Korantia
Korantia: a coastal region of the great continent of Taygus, home to dozens of city-states and scores of Goddesses and Gods - each with their own wants, needs, plans and schemes.
The Enemies and Rivals: To the south are the Jekkarenes, the ancient enemy with cause to fear a Korantine revival; in the east the swelling Taskan Empire draws closer to Korantia's borders with each passing generation; to the north the warlike barbarians of Marangia have fallen quiet since the Taskans seized their capital. To the west is the open sea and beyond are distant lands where colonies were set down in centuries past.
The Emperor: Koibos is the 61st Emperor of the Korantines and the 24th of his name. A vigorous young man in the prime of life, ruler of an ancient empire long past its days of glory. It falls to him to restore his realm to greatness or become an irrelevance to the dozens of city states over which he claims sovereignty.
These are the Shores of Korantia.
In this book you will find everything you need to adventure in Korantia and beyond; rules for character creation, cults, encounter tables for land and sea, economics, a fully detailed colony in which to start off your adventures, many fully detailed NPCs and a mini-campaign that will plunge your characters into intrigue and plot, culminating in a perilous expedition to a mysterious and dangerous desert island.
Shores of Korantia is a complete setting for RuneQuest 6th Edition. Based in the world of
Thennla, first introduced in Age of Treason: The Iron Simulacrum.
Shores of Korantia requires the RuneQuest 6th Edition rules for play
Lulu Print on Demand Store
Selected titles are available in Print on Demand from Lulu. Click on a product to be taken to it's Lulu page. Buying a POD book entitles you to a free copy of the PDF. Simply send us an email, attach your Lulu receipt and quote [Product Name] Lulu Free PDF in the subject line.
Mythras Combat Effects App for Android
This app, for Android smart phones and tablets, assists GMs and Players with working out Special Effects options based on success level, weapon type and do forth. The details of each effect are discretely listed along with all relevant rolls and modifiers. The app does away with the need for reference sheets or rulebook flipping.
It costs just $0.99 from the Google Play app store.
Shipping
Please make sure you apply to correct shipping rate to your order: Supplement North America for the USA and Canada; Supplement International for everywhere else.
Returns Policy
If a book you buy from us direct reaches you in a damaged or otherwise unusable state, as a result of a printing or manufacturing error, we will gladly replace it free of charge. Contact us at designmechanism@gmail.com specifying what the problem is, and we will discuss replacement options.
Privacy Policy
Any personal information you supply will only be used to fulfill your order. We will not sell, exchange or distribute your information to anyone else.